THE PERFECT PASSENGER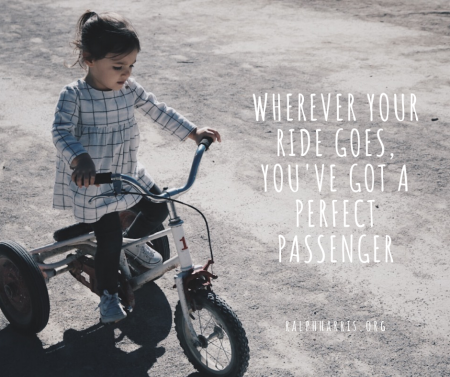 In my experience, most of us born again types believe we've actually been born all over again, that we've got our eternal ticket to heaven punched and locked up in the safe in heaven and in our heart, and that we have a new way to live and do stuff. We pretty much get that. However, we struggle to believe we have a new Passenger, a new "Liver" in us; not the blood filter(!), but God Himself, ready and capable and who lives in us now. For real. We're a happy place for God to live and do His thing. He has no happier place to be. He is the new Liver in us. That was always God's plan.
Paul writes to the struggling-to-believe-that-God-is-in-me Galatians in chapter 2:20: "I have been crucified with Christ and I no longer live, but Christ lives in me. The life I now live in the body, I live by faith in the Son of God, who loved me and gave himself for me."
The good news is that He's good at everything; we just want to find out, and we've got at least a little time to do it. That's the miracle and wonder of Christianity—we go on a sort of hunt for God, who lives in us now. In other words, "God, how good are you at living? How will you do when bad stuff happens? Even when I cause it? What are you like when the pressure's on? How will you behave?" And the really big one, "Are you trustworthy in me?" While we know the answer is that's He's good, and "Yes", He is trustworthy, we're challenged with fears that whisper and sometimes shout, "No! He's not trustworthy in me! I'm going to fake it instead! If I don't, I'll be embarrassed, and I don't want that."
Fortunately, the Holy Spirit is really good at everything with us, and He has a longtime relationship with fear; of throwing it out of us by proving it is a liar. Fear never does anything except enslave people and take freedom from them. Christ in us is our hope of freedom and real life, God's life. He is the Liver now, and He is free of every fear—even and especially amongst other people.
And since we're God's workmanship from the inside—not just to begin with, but at every moment, fun or not, good or bad—there is no hurry. He is not in a rush. He's not looking at you every day while holding a stopwatch: "Move it, man! Get going, woman! Come on!" He's "in here," happy and content, and He's really good with where He is—in you and in me. The rest of our days we'll be learning to know, enjoy and trust Him on our particular ride in us—however it goes, smooth ride or bumpy. And we'll be learning to encourage others to know, enjoy and trust Him in them on their ride, too. He is the one who is constant, He is the one who is the perfect navigator, the one who is stable and able and perfect through everything in us.
It's Him. He knows how to Live, and He's our Perfect Passenger.